Since the olden days, Honey has been used for medicinal purposes.
Honey is powerful nectar that can be used as a key ingredient of natural remedies for your skin. hair and wounds.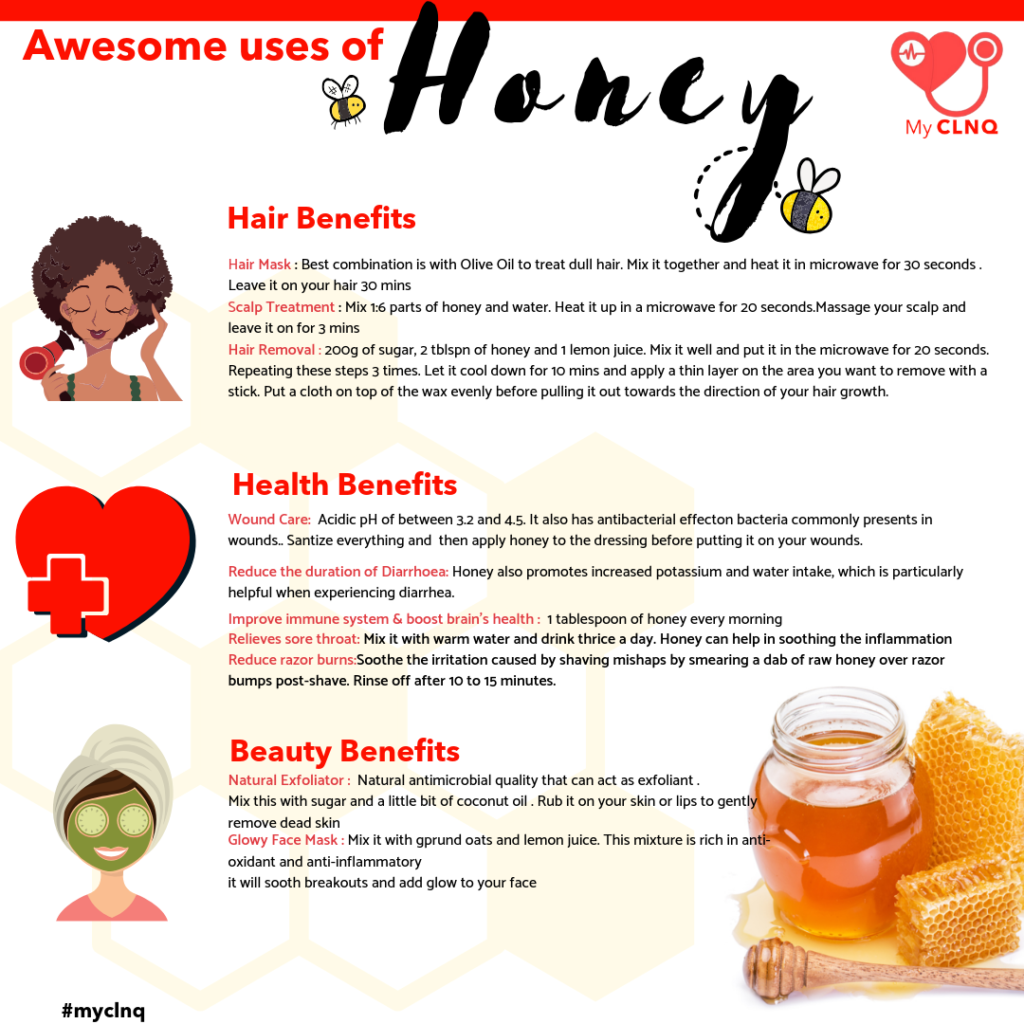 Hair Benefits : Honey is an emollient . This means it has the natural characteristics of softening and soothing the hair and skin.
Hair Mask : Best combination is with Olive Oil to treat dull hair. Mix it together and heat it in microwave for 30 seconds . Leave it on your hair 30 mins
Scalp Treatment: Mix 1:6 parts of honey and water. Heat it up in a microwave for 20 seconds.Massage your scalp and leave it on for 3 mins
Hair Removal: 200g of sugar, 2 tblspn of honey and 1 lemon juice. Mix it well and put it in the microwave for 20 seconds. Repeating these steps 3 times. Let it cool down for 10 mins and apply a thin layer on the area you want to remove with a stick. Put a cloth on top of the wax evenly before pulling it out towards the direction of your hair growth.
Medicinal and Health Benefits : Honey is also a natural anti-oxidants and contains compounds like antibacterial, anti-inflammatory and anti fungal properties.
Wound Care:Acidic pH of between 3.2 and 4.5. It also has antibacterial effecton bacteria commonly presents in wounds.. Santize everything andthen apply honey to the dressing before putting it on your wounds.
Reduce the duration of Diarrhoea: Honey also promotes increased potassium and water intake, which is particularly helpful when experiencing diarrhea.
Improve immune system & boost brain's health :  1 tablespoon of honey every morning 
Relieves sore throat: Mix it with warm water and drink thrice a day. Honey can help in soothing the inflammation
Reduce razor burns:Soothe the irritation caused by shaving mishaps by smearing a dab of raw honey over razor bumps post-shave. Rinse off after 10 to 15 minutes.
Beauty Benefits : Everyone knows the wonders of Honey when it comes to beauty. It is a common ingredient in beauty products from ancient time till now!
Natural Exfoliator :Natural antimicrobial quality that can act as exfoliant . Mix this with sugar and a little bit of coconut oil . Rub it on your skin or lips to gently remove dead skin

Glowy Face Mask : Mix it with gprund oats and lemon juice. This mixture is rich in anti-oxidant and anti-inflammatory. It will sooth breakouts and add glow to your face

Honey combined with different natural ingredients such as Aloe Vera, Turmeric can tackle different skin problems!