There are 2 ways you can whiten your teeth to get that Hollywood Smile. One is through treatment that involves chemicals & light or natural remedies. Either way, both can result in a much brighter looking teeth.
How much does it cost to whiten your teeth in Singapore?
We have done the research for you and found out that the market rate for teeth whitening can range anywhere from $850 -$3000.  This price is for the procedure done at the Dentist itself and not their take-home whitening kit. Take-home whitening kit approved by the Dentist can range about $400 in Singapore.
It is no secret that going to the Dentist for teeth whitening is the most effective and fastest way to see the results however we also included some natural ways on how you can whiten your teeth at home. This procedure is going to take time but it is an inexpensive and natural way to brighten your smile!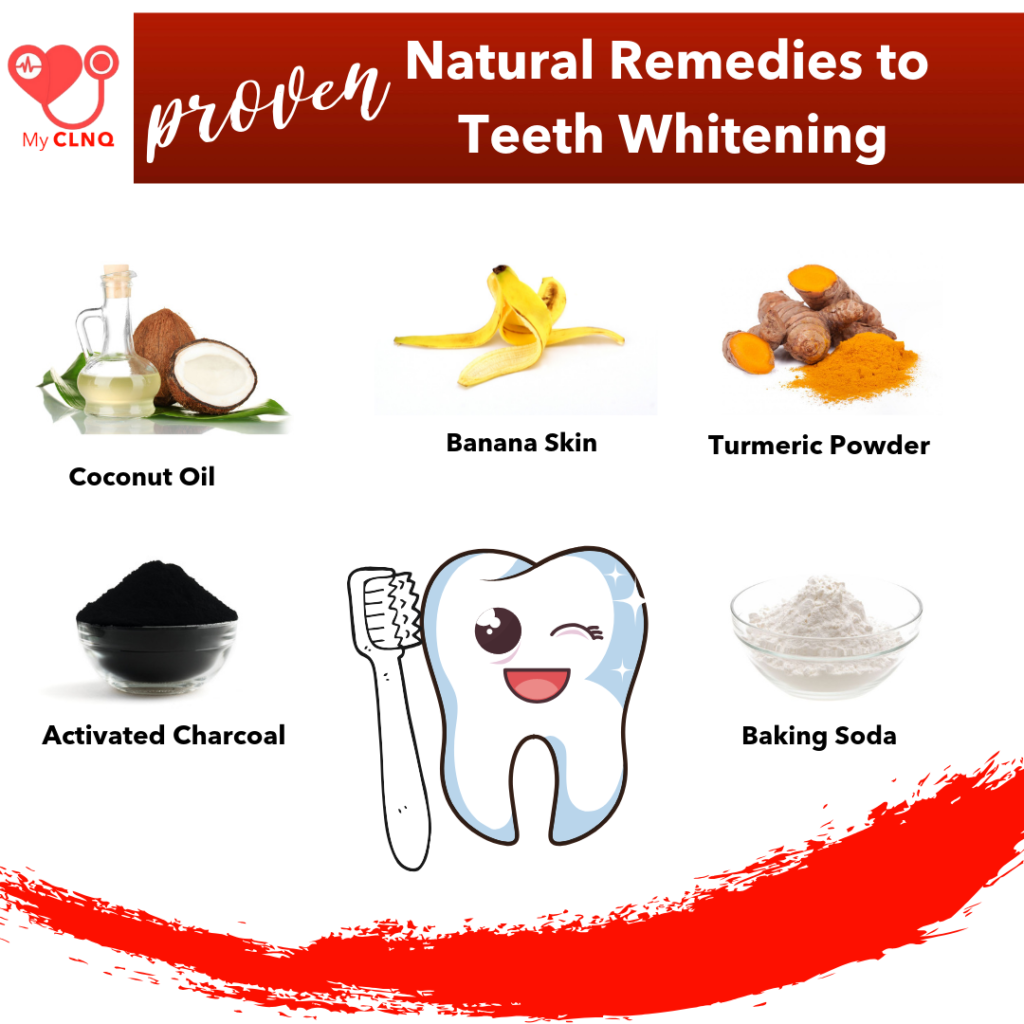 5 proven Natural Remedies: How to whiten your teeth at home using natural products in minutes!
Please keep in mind that these uses may not be appropriate for use in children and people who are pregnant or breastfeeding.
Activated Charcoal, twice a week
Use your fingers to rub activated charcoal on your teeth rather than applying it with a toothbrush to reduce abrasiveness.
Rub it in a circular motion for 1 minute
DID YOU KNOW? Activated charcoal absorbs impurities and whitens teeth effectively because of its adsorbent nature allows it to bind to toxins and odours.
Baking Soda, twice a week
Mix 1 tsp of baking soda with 2tsp of water. We the toothbrush with the solution and brush your teeth
Leave it on for 2-3 minutes and then rinse your mouth with water.
DID YOU KNOW? A report reviewed five studies that looked at baking soda's ability to remove plaque from teeth. All five studies found that baking soda alone effectively removed plaque *
J Clin Dent. 2008;19(4):111-9.
Turmeric, once a week
Sprinkle some turmeric powder on your toothbrush and brush your teeth.
Leave it on for 2-3 minutes and then rinse your mouth thoroughly.
Brush with your regular toothpaste after this.
DID YOU KNOW? Tumeric is a powdered spice that is good for your whole body including oral hygiene
Coconut Oil, every morning
Rub some coconut oil on your teeth with your fingers. Ensure you do not swallow it.
Rinse with adequate water and follow with brushing.
DID YOU KNOW? The lauric acid present in coconut oil contains lauric acid which helps in getting rid of plaque and bacteria in the teeth
Banana Peel, Daily
Cut the banana peel into small pieces
Take a piece and rub the inside of it on your teeth. Rub gently all over your teeth for a minute or two.
Rinse your mouth with lukewarm water.
DID YOU KNOW? Banana peel contains minerals like manganese and potassium that help in teeth whitening