Stay home but stay healthy. We can still go out to do simple aerobic exercises to stay healthy and keep our immune system strong!
Singapore Health Promotion Board and Ministry of Health have launch plenty of guidelines to keep Singaporeans active and healthy. You may visit the following websites for more details:

https://www.livehealthysg.com/, https://www.healthhub.sg/ ,https://www.hpb.gov.sg/
So what is AEROBIC EXERCISE?
It is any type of cardiovascular conditioning aka CARDIO.Another way to describe aerobic exercise or "cardio" is that it's the type of workout that increases both your heart rate and breathing
Simple activities that you can still do right now is, Skipping, Running/Jogging, Brisk Walking and Cycling.
If you do not wish to leave your house during this pandemic, a simple skipping rope exercise of 45 mins can burn up to 450 calories! That is as good as running outside!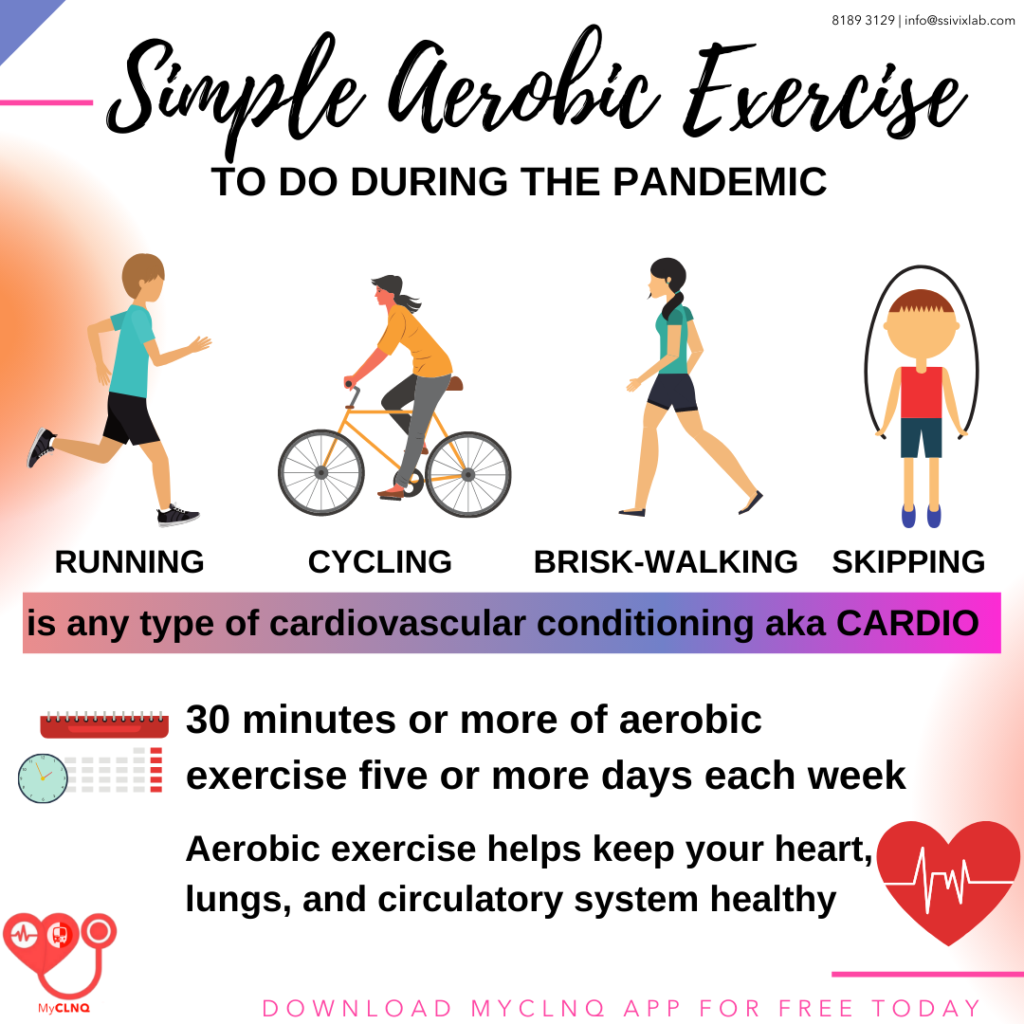 RECOMMENDATIONS
30 minutes or more of aerobic exercise five or more days each week
WHY IS IT GOOD?
Aerobic exercise helps keep your heart, lungs, and circulatory system healthy
The different benefits of Aerobic Exercises
BRISK WALKING


Maintain a healthy weight
Prevent or manage various conditions, including heart disease, high blood pressure and type 2 diabetes
Strengthen your bones and muscles
Improve your mood
Improve your balance and coordination
CYCLING
Increased cardiovascular fitness
Increased muscle strength and flexibility
Improved joint mobility
Decreased stress levels
Improved posture and coordination
Strengthened bones
Decreased body fat levels.prevention or management of diseases
RUNNING/JOGGING
Help to build strong bones, as it is a weight bearing exercise
Strengthen muscles.improve cardiovascular fitness
Burn plenty of kilojoules
Help maintain a healthy weight.
May 27, 2020
Even after the Circuit Breaker ends and Singapore enters Phase 1, most people are still working from home.