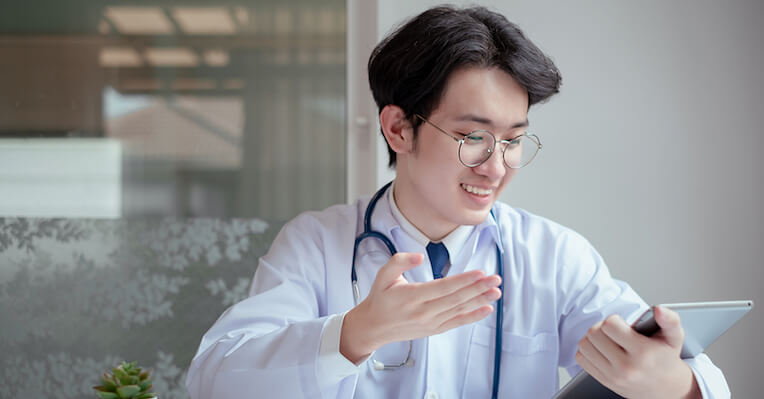 The COVID-19 pandemic has accelerated the demand for online medical consultation in Singapore and worldwide, which is made possible with telehealth applications. As the virus is highly contagious and can spread quickly just by close contact and interaction, many people have turned to online-based options for diagnosis.
Though the pandemic has limited the physical healthcare services of most systems, the situation is not all doom and gloom. The use of technological applications made healthcare more accessible to patients! It allows for consultations anytime you wish to see a virtual doctor from the comfort of your own home. As Singaporeans continue to embrace the use of technology, here's how such applications stand to benefit you, especially in times of a global pandemic.
1. Minimises risk of catching the virus
All around Singapore, applause rang out across HDB blocks in support and gratitude of those working on the frontline, who have been working tirelessly against COVID-19. To mitigate the risk of healthcare professionals' exposure to the virus, safe distancing measures have been put in place at hospitals. For example, outpatients with follow-up appointments have been deferred. Hence, visits to the hospital have been curtailed significantly.
Meanwhile, technological applications allow anyone to consult a doctor from their digital screens, without needing to leave their homes. Since face-to-face visits at the clinics are limited, it also minimises the contact with the virus, for both the patient and healthcare workers.
2. It gives citizens peace of mind
Common symptoms of COVID-19 include fever, dry cough and fatigue – almost like regular illnesses. Telehealth apps are excellent for those who are reluctant to visit the clinic or hospital, but at the same time, worried over the virus-like symptoms they're experiencing.
As we're amid a pandemic, seeing an online doctor via telemedicine platforms is a safer and more convenient option than visiting a physician face-to-face, as it allows for a quick diagnosis. From home, patients can get medical advice and treatment without being in close contact with others. This also helps people practise social responsibility in caring for themselves while ensuring others do not get infected. And with proper advice from a professional, the patient would be better informed on the next steps to take.
3. Provides care for vulnerable patients
Individuals with chronic diseases are incredibly vulnerable, especially since they might be deemed as high-risk if exposed to the virus. Hence, the role of telemedicine during this pandemic is highly imperative. For this group of individuals, they are able to get routine care in the form of virtual check-ups from qualified doctors. Video "visits" allow physicians to not only keep their patients in check, but help them avoid unnecessary exposure to the virus.
4. Accessible to those infected with COVID-19
Despite the protective gear, those working in the frontline aren't immune to getting infected with the virus. In fact, they face an increased risk of contracting COVID-19 as they have to continuously care for infected patients round the clock. For those who have been tested positive, they are then placed in quarantine with minimal contact from others.
As telehealth applications are widely available to those with a smartphone, doctors can have the option of seeing their patients through such platforms. While the patient gets the care and supervision it needs, a doctor gets to communicate with the patient safely.
Conclusion
The widespread usage of telemedicine is a step towards its acceptance. Such applications have proved beneficial to both patients and physicians, especially since it harbours hope amid this trying time. Even if it operates through an online platform, telemedicine seamlessly integrates both online and offline care.
SSIVIX Lab aims to make a difference with its healthcare app, MyCLNQ which offers a host of healthcare services for you, all through your smartphone screen. You can consult with online doctors, find nearby available clinics, chat with a clinic personnel and request for a private ambulance service conveniently in a single digital platform. This helps to meet the increasing need for telemedicine services and better access to meet healthcare needs.