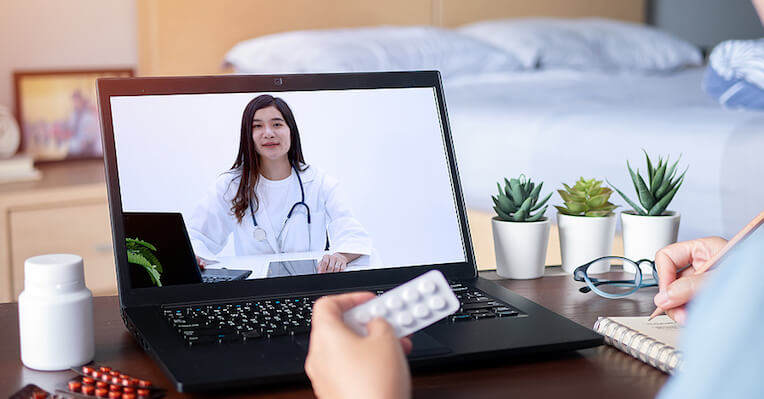 The rapid spread of COVID-19 around the globe has impacted the way we receive and view healthcare. Measures were taken to minimise staff exposure to the virus and ill persons. Healthcare systems had to rethink the way they provide for patients through methods that don't require an in-person visit. All this is done in an attempt to curb the virus from spreading even further.
Even though the concept of online doctors and telehealth apps aren't entirely new, COVID-19 brought about a surge in its usage. It eased most patients' access to healthcare, on top of promoting its use to offer minor, chronic, speciality care and more. Telehealth plays a vital role as the healthcare sector navigates its way through this uncertain time. Here are some reasons why.
 1. Reduces the risk of virus transmission through virtual care
Consulting with a virtual doctor allow physicians to care for a more significant number of patients without the chances of being near someone who might carry the virus.
When patients come over for their appointment, they'll have to make the trip down before situating themselves in the waiting area, which usually takes a while. Throughout this time, they're continually being exposed to other people, which can be of significant risk in the transmission of the virus.
Shifting regular consultations to the digital landscape is a safer option for both health providers and patients.
 2. Makes the most out of the workforce
Aside from minimising the risk of catching the virus, telehealth apps allow for maximised care for a wide range of patients. Whether it is to help monitor chronic health conditions or to screen patients who might show COVID-19 symptoms before referring them elsewhere, doctors can provide basic care to patients without being with them physically.
In fact, our MyCLNQ mobile app allows providers to meet with a broader audience. By helping users find and book an appointment at clinics around their area, we help providers to achieve geographic load balancing. Patients have the option to see a doctor virtually to seek treatment. And if the situation calls for it, they can book for a private ambulance service for the smooth transportation to and from hospitals – all through the app.
 3. Able to minimise cancellation of appointments
When Circuit Breaker was first introduced, hospitals were scrambling to postpone out-patient appointments to after 4 April. Upon the extension to 1 June, the same process happened again.
Circuit Breaker brought about a series of tighter measures, and Singaporeans were advised to only leave their homes for essential purposes. However, this affected the healthcare sector's stream of revenue since most appointments were delayed. But with telehealth apps, hospitals can operate in the 'new normal' through delivering care virtually. This way, the industry can reduce the rate of deferred appointments as providers continue treating patients through online medical consultations in Singapore.
Conclusion
Even during this unprecedented time, telehealth apps paved the way for the healthcare industry to thrive through many benefits, such as the three factors mentioned above. Not only will it enable physicians to continue treating patients, but it'll also help maintain the stream of revenue for the healthcare sector.