Supervised virtual ART at your comfort
Get a MOH-approved COVID-19 test done remotely, and forgo the trips to the Quick Test Centre or a clinic. Complete your virtual ART test in Singapore via a video consultation with the MyCLNQ app.
Pre-departure for Outbound from Singapore
For travellers, you would need to ensure that your destination country accepts virtually-supervised ART test results, and that your appointment is within the testing window that is in line with the stated requirements
Pre-Event Tests
Results valid for 24 hours — such as for concerts, conferences, or going to a club.
Convenient And Fuss-Free
Book your appointment, finish the test, and receive your certified results all on your phone, without stepping out of home
Supervised Test
Tests are supervised by trained swab supervisors, who will guide you through the process
Results In 4 Hours
Receive your certified results within 4 hours, sent over SMS/email.
Travellers entering Singapore from All Countries
You can get your verified ART test results within 4 hours through SMS or email.
Note: Do confirm beforehand that your intended destination accepts ART results done virtually. Moreover, make sure that the time you took the ART test meets the requirements towards pre-departure.
*Do ensure that your destination country accepts virtually supervised ART results, and that your testing window is within the pre-departure testing requirements.
What to Know about the Tele-ART Service
Tele-ART services are accessible 24/7.
Our supervised ART test costs $12.
The service includes the virtual supervision along with ART test result certificate. During the Tele-ART session, you are required to procure your own Singapore HSA-approved ART kits.
Tips for Booking Your Appointment
If you want to make a supervised ART test booking in Singapore, you need to use your MyCLNQ profile. To avoid confusion, do not book appointments for a group of individuals on a single account.
For individuals who require testing before travelling, prepare your passport and travel schedule before starting the supervised ART test.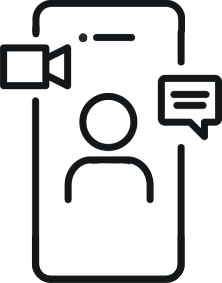 How the Tele-ART Service works
01
Book your appointment on the MyCLNQ app
Select Video consultation / Tele-ART
Select Covid-ART Test in symptoms
Step 1:
Book your appointment on the MyCLNQ app
For travellers leaving Singapore, please select 'Pre-departure testing'
For travellers arriving in Singapore on the VTL, please select 'Travellers on VTL'
02
Log on at appointment time and follow the instructions of your trained swab supervisor
03
Your results will be given through SMS/email TraceTogether/HealthHub.