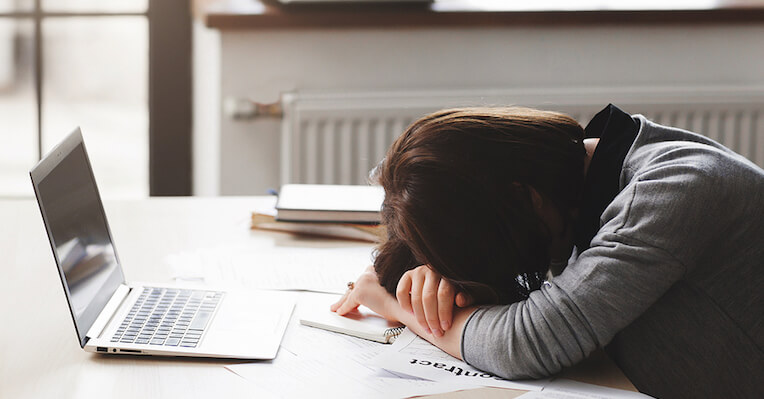 When the Circuit Breaker measure was first announced in Singapore, schools had to transition to home-based learning and most offices operated from home. Now that we're in Phase 2, most non-essential businesses remain physically closed as work from home continues, while students abide by a different set of schooling arrangements.
Throughout this period, we've seen many trends from getting creative in the kitchen to taking regular walks outside the park. It seems like the new normal is granting us the luxury of time for us to dabble in new hobbies or do the things we've always wanted but never had the chance to.
You might have kickstarted your Circuit Breaker by coming up with a list of activities you want to accomplish. However, not everyone is in the position to use this period as a means to upgrade themselves. In contrast, you might have felt unproductive instead. Here's why we think unproductivity is completely normal during this crisis.
1. Increased workload
Just because you're working from home, it doesn't mean that you automatically have pockets of free time on your hands. In fact, it can be the exact opposite. You might have struggled with adapting to work-from-home arrangements. With entertainment options and family members around you, it might feel counterproductive instead. And once you can finally go back to doing work after some interruptions, you'll need to put in additional effort to settle in the right mood.
2. Worries about the virus
The COVID-19 pandemic took us by surprise. Even now, scientists, researchers and healthcare professionals are still trying their very best to find a cure or vaccination for the virus. As time goes by, the news outlets are continually reporting on new cases cropping up in Singapore. It's inevitable to feel stressed out over something that could potentially harm us, yet we have no control over. In turn, it affects our focus and in turn, our productivity to get things done.
3. Productivity is not the same for everyone
With the prominent presence of social media in our lives, we can't help but compare our progress to others. Meanwhile, we need to remind ourselves that the content we see on social media is mostly curated. Of course, people will be more likely to show their happiest, joyful moments rather than sad ones.
Beat the unproductive bug
Your feelings and experiences are valid. But at the same time, staying in a slump for a prolonged period isn't healthy for your mental health as it can bring about feelings of anxiety and stress. Adding on, it can lead to decreased motivation when working on your tasks. So, if you want to get back on track, here are some tips. 
Evaluate existing unproductive habits
Over time, we might have picked up on certain unproductive habits without us realising. However, you are in control of what you feel and think! So, you must be aware of them and how they affect your day. For example, if you're worrying too much about the remembering the simplest of things, write down your tasks, ideas and thoughts. You can use your brainpower to something more useful like solving problems to help you in your work.
Often, we tend to forget to take breaks. And when we fall into a daily routine, it can lead to us feeling burnt out. To boost productivity, try engaging in your favourite activities for one to three hours during your rest days. It can help you to feel more energised and rejuvenated, so you can focus your energy doing your daily work task on working days.
Instead of bottling up all your feelings, it's good to say them out loud so you can acknowledge and validate your emotions. Sometimes, you may also get a personal advice that may be helpful to your situation. However, if you feel uncomfortable to share your problems with someone in your life, reach out to a professional. They can provide a listening ear and guide you through the process of working out your feelings and how you can navigate the problem.
Conclusion
Feeling unproductive is a normal experience, but we shouldn't take a long time to complete what we have to finish; otherwise, our tasks would end up snowballing. Instead, work on acknowledging your feelings before taking a break, and then getting back to your task!
If you're feeling the stress and blues of working from home and staying indoors during this COVID-19 period, and are having a hard time managing it, there are telehealth services available for virtual consultations with a professional. Check out our MyCLNQ mobile app, available on Google Play store and the App Store, to help you consult a doctor online from the comfort of your own home. Without the trouble of waiting through long queue systems or traveling a distance to the clinic, you can talk to an online doctor conveniently through video, Tele or chat via your mobile phone.
Alternatively, you can also turn to these helplines to get the help you need for your emotional or psychological well-being during these stressful times.
National Care Hotline: 1800-202-6868
TOUCHline (Counselling): 1800 377 2252
Samaritans of Singapore: 1800-221-4444
Institute of Mental Health's Mental Health Helpline: 6389-2222