Peth Yoeung by First Womentech Asia Co., Ltd.
Peth Yoeung by First Womentech Asia Co., Ltd. is a Cambodia's largest cloud-based Hospital Management Software Platform created to advance our healthcare ecosystem in Cambodia and ASEAN nations through securing medical records, patient data and smoothening hospital operating processes and is also integrated with a premier healthcare marketplace to help improving the pathway
to access to healthcare of people anywhere, anytime conveniently. Peth Yoeung has set strong footprint in Cambodia and is recognized by the Ministry of Health of Cambodia. Peth Yoeung won national competition as the social start-up business to join the international competition in Geneva, Switzerland 2019 (distance) and award from the Ministry of Post and Telecommunications last March 2019.
Singapore/Phnom Penh (01 June 2021)—Singapore and Cambodia's healthtech startup, Peth Yoeung by First Womentech Asia Co., Ltd. and Ssivix Lab Pte., Ltd.'s, MyCLNQ Healthcare Ecosystem sign a venture partnership to support Cambodia's healthcare service providers via their on-demand telehealth consulting services at the most safe, affordable and secured to Cambodians and aim to expand into the Mekong region and Asian countries.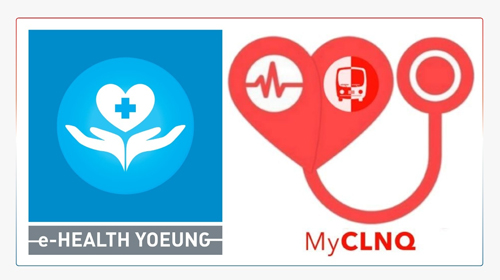 "e-Health MyCLNQ" is the first and largest One-Stop Healthcare Ecosystem and Telehealth Consulting Platform by the venture partnership of First Womentech Asia Co.,Ltd. and Ssivix Lab Pte., Ltd. formed to provide a vital access to healthcare service smarter, quicker, lower cost and to enable healthcare providers staying connected with their patients anywhere, anytime faster, easier and secured.
Mrs. Limsan Pong, Co-founder and CEO of First Womentech Asia Co., Ltd. said, "As Cambodia healthtech startup with support of thousands of doctors and making nearly 2 million of patients have their medical online with aim for regional expansion dream, we are very proud that we are able to team up with a Singapore based one stop healthcare startup platform as MyCLNQ to support our panel clinics/hospitals—public and private ones to still be able to provide healthcare service to patients as usual with no interruption of Covid-19 pandemic and patient access no worried medication service and healthcare on trusted and secure mobile health app, e-Health MyCLNQ."
"Patients can access cross-border health consulting service especially overseas doctors consulting from Singapore, India and other Asian nations and our panel clinics, hospitals and healthcare providers can do medication service for patients from overseas on their available service demand. e-Health MyCLNQ is aimed to solve healthcare pain point across Asia market but we start from Cambodia and the Mekong region first," said Mrs. Limsan Pong.
Speaking about partnership, Co-founder and CEO of MyCLNQ Mr. Anwar Rafique said, "Partnership with First Womentech Asia it is an exciting opportunity for MyCLNQ Team to carry out our healthcare vision together in Cambodia as a regional expansion and Asia healthcare vision. We also believes that it is a good opportunity to contribute and transform Cambodia's health system into a fully and complete digital healthcare along with patient centric approach."
I am confident that "e-Health MyCLNQ" will help Cambodian people access medication service and hospitalization smarter, more convenient, and affordable at fingertip. This AI enabled ecosystem can provide medication services from doctor's wherever they are and they can also choose to select local or overseas affordable healthcare services. e-Health MyCLNQ is more than just a healthcare platform, it is your One Stop to meet all your family Healthcare Service," said Mr. Anwar Rafique. He added that currently more than 80,000 of people, and 1000 of healthcare practitioner had benefited by the MyCLNQ app primarily in Singapore.
The joint venture solution of "e-Health MyCLNQ" is the first and one stop healthcare service and target to serve millions of people and thousands of medical healthcare professionals from Singapore, India and Cambodia and will soon roll out to the Mekong countries. Mr. Socheat Bin, Co-founder of First Womentech Asia Co., Ltd. and Country Manager of the "e-Health MyCLNQ" venture business said, "e-Health MyCLNQ" is a choice of people and healthcare professionals to access and to provide healthcare service smarter, easier and more competitive cost saving ever besides just transforming healthcare and better healthcare service in the Kingdom and the developing countries."