Harley Street Heart & Vascular Centre
The Harley Street Heart & Vascular Centre is a one-stop specialist centre based in Singapore that provides the latest and most advanced treatments available for people with heart & vascular disease. Our internationally recognized heart and vascular specialists have trained in leading centres around the world, including the United Kingdom, United States, Canada and Australia to deliver a caring and professional service for our patients.
At the Harley Street Heart & Vascular Centre, we aim to maintain the medical excellence and quality associated with the Harley Street name and believe in treating the individual and not just the disease. We have links with leading medical centres and specialists worldwide allowing for a smooth continuity of care for our international patients.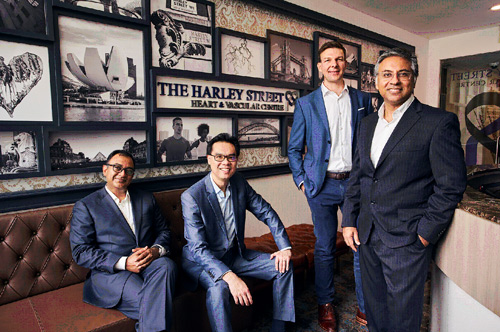 Cardiac services: We treat patients with a variety of heart conditions and also offer cardiac screening packages for those who would like a general heart check-up. Using the latest equipment and technology, our heart specialists will carefully assess your condition and determine the best management plan. Our heart specialists provide treatments such as coronary angiography and stent insertion, pacemaker and device implantation and catheter ablation of cardiac arrhythmias. A key mission of our heart specialists is to provide the best possible care and service to get your heart to a healthier place.
Vascular services: We treat and manage a range of conditions related to the arteries and veins like aortic aneurysms, peripheral arterial disease, venous disease and carotid disease.
We provide a comprehensive non-invasive vascular diagnostic service at our facility including Duplex ultra-sonography, arterial hemodynamic studies (ABI, TBI and segmental pressure studies) and venous hemodynamic studies (light reflex rheography and venous plethysmography).
Our vascular interventional services include treatment of varicose veins using cutting edge technology like Venaseal glue ablation, Radiofrequency ablation and Clarivein therapy for varicose veins as well as endovascular (key-hole) and open surgical management of aortic and peripheral arterial disease.
We also provide advanced wound care for diabetic foot ulcers and venous leg ulcers with innovative wound therapies like high dose topical oxygen therapy, negative pressure wound therapy and ultrasonic wound stimulation for difficult to heal leg ulcers.